Products By Category
AMD Systems
Intel Systems
Best Gaming PC
Best Cheap Pre-Built Gaming PC
Best Cheap Gaming Desktop
Best Gaming PC Under $1000
High End Gaming PC
NO ONE DOES IT BETTER!

Fan Zhang - Google Review
"I was impressed with the build quality...I would definitely recommend TechFast to my friends and anyone needing a new computer."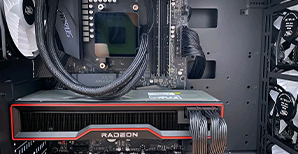 Trevor Clavell - Google Review
"Great product, I was serching for months for a PC come across Techfast...very happy so far"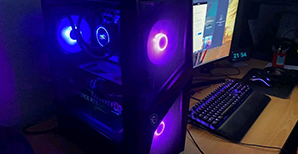 David Tran - Google Review
"The benchmarks for my build are beyond expectations and I'm glad I went with this machine...Overall I'm super happy with what I've got here and would gladly recommend."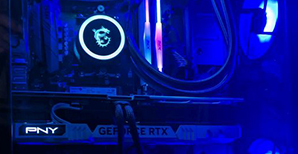 How Much Is The Average Gaming Desktop?
These days gaming desktops are in great demand. Everyone is looking for a durable gaming desktop that falls in their budget. Budget is very important, as how much you have to spend on your gaming desktop will ultimately dictate what games you can play, and what framerates, quality settings and overall gaming experience you'll achieve.
There are many different tiers of gaming desktops available in the market, and each tier will play different titles at different resolutions, framerates, and quality settings. Buying or opting for a PC build, you must always plan around how you are going to use it. Are you going to use it for AAA games at the highest settings on a 4K monitor, or are you a casual gamer, content to play your favourite casual or Esports titles on a regular monitor at average quality settings and framerates?
How much is the average gaming desktop? Shopping around you'll find the average gaming desktop will cost you anywhere from AUD $1,200 to $1,600, for a prebuilt PC that will run most games at 1080P, with a few compromises perhaps necessary in terms of framerates and quality settings. But, if you want to run AAA titles with a frame rate of 60+ at max settings, the cost can easily rise to AUD $3,500+ out there in the market. In the end, the cost of the PC build depends very much upon what you are expecting from your new gaming desktop. And the results you expect from your gaming desktop will directly affect the price of your PC.
So before you begin shopping around and looking at gaming PCs, take some time to think about what you want out of your system. Ask yourself these questions to get a better understanding of what you will be looking for:
● What kind of games will I be playing?
● Do I want to play them on the highest settings?
● Will I want to stream or record the gameplay?
● Will I be using the computer for any other resource demanding tasks? (Graphic design, coding, video editing and rendering, etc)
● What is my budget range?
Answering these questions before browsing for a new computer can help iron out what exactly you need in terms of specs and performance, as well as how much you can afford to spend.
What Does a Gaming PC Cost?
In order to answer this question, several groups will need to be defined based on their hardware and the performance offered. This will help give a better idea of what a certain price tag can get you in terms of usage and capability. An example build will also be included to give an idea of the hardware that would be around a certain price point. The builds are certainly not limited to what is shown, and there are a number of combinations and changes that could lead to a similar price.
Beginner Level System
This entry level build provides the capability and performance to run typical lightweight games such as League of Legends that aren't very resource intensive. This would be a good system for someone who plays games at a very casual level and doesn't worry too much about getting 60+ FPS and running things on ultra-high graphics settings.
Pros
● Lightweight and budget friendly build
● Provides more performance than just a regular desktop
● You can play regular games on low-medium settings with no performance issues
Cons
● Pretty limited when it comes to using high or ultra-high settings
● Will not be enough for streaming or recording gameplay
● Will become obsolete a lot faster than other systems
Example System Build: AUD $900
❖ Computer Case - ATX
❖ CPU - Ryzen 3 3200G
❖ Motherboard - AM4 Socket type
❖ Graphics Card - Integrated Radeon Vega 8 Graphics
❖ RAM - 8GB
❖ Hard Drive - Samsung SSD 256GB
❖ Power Supply - 500 Watt non-modular
A slightly higher performing example would be the TechFast's gaming desktop PC found here. This build incorporates a dedicated graphics card and a small form factor M-ATX case before any customization.
Mid Level System
The middle tier build is a great choice for active gamers that want the ability to play any game with decent quality. AAA game titles shouldn't have an issue on a system in this tier, and the only real limits you might face are with extremely resource demanding titles on high settings (think Cyberpunk on ultra 4K settings). This build will handle multi-tasking well even while playing games, and it may even allow you to record gameplay in lower quality.
Pros
● Good middle ground between price and performance
● Provides solid performance that shouldn't hinder you even when running several programs at a time.
● All games are viable options and should perform well between medium and high setting ranges.
Cons
● Playing certain AAA games with high settings could result in some performance issues and decreased FPS.
● Streaming will still be pretty limited, and recording might result in a decrease in FPS
Example System Build: AUD $1,600
❖ Computer Case - ATX
❖ CPU - Intel i5 12400F
❖ Motherboard - LGA1200 Socket type with robust features
❖ Graphics Card - RTX 3060 Ti
❖ RAM - 16GB
❖ Storage - 1TB m.2 NVME
❖ Power Supply - 600 Watt non-modular
A pre-built example of this type of build would be this TechFast gaming PC before customization or additional added options.
High End Level Systtem
The final level in this article is for those who would classify themselves as hardcore gamers, and/or utilize the gaming PC for professional reasons. Whether you are an aspiring eSports pro or a streamer looking to grow and expand, this system will be able to do it all. You won't have to worry about any performance issues or FPS drops in any game even while streaming high quality content to your viewers.
A high performance machine such as this also provides an excellent system to utilize if you are a programmer, graphics designer, CAD designer, and pretty much any other profession that utilizes high resource demanding programs.
Pros
● Can handle pretty much any kind of program or programs you throw at it.
● Excellent system that can provide professionals with an excellent work environment.
● All games and programs can be handled at the highest settings including 4K options.
Cons
● Can become quite pricey.
● These systems come loaded with hardware so they can get pretty bulky and heavy.
● Might be louder than a normal system build due to cooling requirements.
Example System Build: AUD $2,500+
❖ Computer Case - ATX
❖ CPU - Intel i7 13700F
❖ Motherboard - LGA1700 Socket type with robust features
❖ Graphics Card - RTX 4080
❖ RAM - 32GB
❖ Storage - 2TB Gen NVMe m.2
❖ Power Supply - 800 Watt non-modular
Bonus: Insane Tier
If money isn't an issue, then looking into purchasing a system in this tier would provide you with some of the best possible performance a consumer could buy.
Example System Build: AUD $4,500+
❖ Computer Case - ATX
❖ CPU - Intel i7 13900KF
❖ Motherboard - LGA1700 Socket type with robust features
❖ Graphics Card - RTX 4090 24GB
❖ RAM - 64GB
❖ Storage - 2TB Gen 4 NVME m.2 SSD
❖ Power Supply - 850 Watt modular
❖ Liquid Cooling - 240mm liquid CPU cooler
❖ Interior RGB programmable lights
Tips on Reducing Your Build Costs
While it can be fun to look at a $4,500.00 computer build, the reality is that most people don't need that kind of performance and probably don't want to spend their hard earned money on something they wouldn't use to its full potential.
Most gamers will probably fall into the middle or high tier groups, and even those can get pretty pricey. So besides looking for sales and the special deals companies can offer, what are other possible ways to save some money and reduce that pricey system build down to something more reasonable?
Looking for CPU/motherboard combinations
If you are into building your own PC then keeping your eyes open for promotions on CPU/motherboard combinations is a great way to reduce the price of your overall build. These deals will limit you to a specific CPU and motherboard, but if you get lucky you can get some pretty high performing hardware for a relatively low price.
Utilize specific brands
When looking for a gaming PC it can be pretty easy to get caught in the "Intel vs AMD" arguments or the "this brand is best" comments. The reality is that a lot of brands are quite similar when it comes to performance and quality. While Intel has dominated the CPU marketplace, AMD has done a great job in developing highly competitive hardware for much cheaper. So if you are looking to lower the price of your CPU and you don't want to sacrifice performance, take a look at AMDs Ryzen CPU line.
Graphics cards are another place where you will see a lot of fights of whether AMD or NVIDIA is better. While NVIDIA is known as the 'premium' brand that offers a lot of great technology in its GPU lines, the reality is that most of the time you won't even notice the small benefits that technology provides. AMD is a great choice whether you are on a budget or not, and their line of graphics cards will provide you with excellent performance with a lower price point.
Plan for upgrades
Whether you are building your own gaming PC or thinking about buying a pre-built one, planning for upgrades can save you some money. Graphics cards are one of the priciest components in a gaming rig, so oftentimes it can be beneficial to include a lower end option initially and then upgrade it later on when money is available.
If you are planning on doing this, just be sure to size your power supply to the video card you are going to upgrade to. The high end graphics cards can have some pretty big power requirements so make sure your current power supply has enough wattage to power any future upgrades, otherwise you will have to replace that as well.
Wrapping Up
Searching for the right computer can be a pretty complicated and daunting process, and pre-built solutions can oftentimes limit you to components that you might not necessarily want in your build. While building a custom gaming PC can provide you with some great customizability and control over your hardware, it's also an extremely complicated and time consuming task. Luckily there are a few select services that have combined the best of both worlds by providing you with the ability to have a pre-built system with some great customization and part selection.

Techfast is one of those services and can provide you with a wide variety of options to incorporate into your gaming build. The best part? It shows up at your door ready to be plugged in and turned on. It also comes with a one year warranty and an operating system already installed.
So if you're looking for a competitively priced pre-built gaming PC that you can customize, check out our website and see what we can offer you.
Can A Gaming Desktop Be Used For Work?
With the increased interest in working from home due to the COVID-19 pandemic, the demand for quality desktops has risen significantly. PC sales have skyrocketed as people look for good computers to support working remotely. At the same time, many popular games are reporting some of the highest activity they have ever had, so much so that servers are having to be upgraded to accommodate the increased traffic.
So while people are out shopping for a PC that can suit their remote work needs, they probably aren't considering the possibility of the requirements of the games they might play. While most typical remote work tasks such as emailing, creating documents, and using remote meeting software are not resource demanding tasks, gaming can require considerably more computation resources.
This means that while a desktop might be adequate for remote work, it might be completely useless depending on the games you want to play. However, if the roles are reversed and a gaming PC is used to complete work related tasks, there will be plenty of performance to fulfill your work and gaming needs.
But what if your job requires more than just the 'typical' tasks, and the software or programs you use are more demanding. In order to figure out the requirements you will need from your PC, work related tasks should be grouped up by resource intensity.
Typical jobs and their requirements
There are a wide variety of tasks and jobs that can be done while working remotely, and your PC requirements are highly dependent on the resource demand of those jobs. In order to figure out the performance requirements for your job, the tasks can be split up into groups based on the amount of resources they will require.
Low Demand
These tasks are generally very lightweight and basic. These tasks can include email, web browsing, remote meetings, and document creation and management. These tasks do not require very much when it comes to computational resources and can be performed by pretty basic machines.
However, it's important to remember that computers usually end up being used for more than just work. They can be utilized for streaming media such as Netflix, listening to music, downloading and editing pictures, and a wide range of other tasks that can add to the resource demand.
If you're someone who enjoys multi-tasking and might have Netflix going on one screen while you work on the other, you may want to think about purchasing a computer that offers a little bit more performance than just the very basic. Running multiple programs can quickly use up a computer's available resources, so making sure you have plenty of room to play with can go a long way.
Medium Demand
This group can have a wide variety of special programs that they use in order to complete their jobs. This can range from graphic design programs, video editing software, light coding software, and even some programs that might be specific to your job. All of these jobs require a decent amount of performance from your computer and will require a computer that has more than just the basics.
While you might not necessarily need a computer on the same level as the average gaming PC, the hardware requirements are getting pretty close to what might be classified as an entry level gaming system.
High Demand
The jobs in this group will be pretty close to the same level of resource demand of the average video game, and thus requires a PC with the same performance standard as a gaming PC. This group would mostly consist of coding software that may require compiling, CAD and Revit design, and significant video editing and rendering.
At this point there are very few computers in this range that wouldn't be classified as a "gaming PC". The performance requirements would be on par with what a gaming PC would offer and could certainly put one to work.
The Differences Between a Normal PC and a gaming PC
Now that the different resource demands are separated into groups, it will be easier to explore the differences between a normal and gaming PC. There are several large differences between the two, and it's more than just the amount of RGB lights one has over the other.
Performance
One of the biggest and most glaring differences between the two is the massive discrepancy in performance. A gaming PC is specifically designed for performance and the hardware choices are all oriented offering the best performance within the targeted price point. This usually means that gaming PCs can be a little bit bulkier and heavier than their counterparts due to the hardware selection.
Gaming PCs usually come with optimizations or software that help get the most out of their hardware. Compare that to a typical computer that usually comes loaded with bloatware (useless software installed to make you spend more money) and the gaming PC already comes out ahead, even if they have similar hardware.
Gaming PCs definitely win this category.
Aesthetic
In some cases regular PCs can have a nice clean appearance, however there isn't a whole lot of attention put into making it look nice. It usually comes in a generic looking computer case with some stickers and that's it.
A large part of the design of a gaming PC is the general look and feel of the product. Companies spend hundreds of thousands of dollars developing the look and feel of their gaming brand, take the famous MSI dragon for example. When looking at computer hardware it's very easy to distinguish MSI products from the competition because it prominently displays their dragon emblem.
Gaming brands also spend a lot of time designing the computer cases and layouts of their gaming PCs. Computer cases that have see-through sides are often used, and there is a heavy focus on the layout of the hardware within the PC. These computer cases are oftentimes embellished with RGB LED lights, and the cable management is impeccable.
While focusing on the aesthetics of a computer might seem like a waste of time and money, it can create an excellent experience for the buyer as well as create a beautiful centerpiece out of an otherwise boring metal box.
Gaming PCs definitely win this category as well.
Mobility
If size is an important factor for you, then the regular PC is going to win this category. When designing a typical PC, companies tend to focus on small form factor cases that provide a much smaller footprint compared to the standard size cases. This can help with desk space as well as when you need to move the PC itself.
Gaming PCs tend to get a little bulkier due to the hardware and power requirements. Whether you compare the size or weight, the regular PC will generally come out on top. However, this doesn't mean that all gaming PCs are large metal boxes. TechFast has done an excellent job in designing gaming PCs within small form factor M-ATX cases while also retaining a real attractive aesthetic through the use of RGB LEDs. Take this system for example.
Regular PCs win this category as they are generally more lightweight and are focused on providing a smaller form factor.
The Advantages and Disadvantages of Purchasing a Gaming PC Over a Normal PC
So while this article has explored the differences in computational resource demand, and the major differences between a regular and gaming PC, it has yet to answer the actual question that was posed. In order to answer that question, let's look at the advantages and disadvantages of using a gaming PC.
Advantages
Increased performance
Gaming PCs are designed to offer some of the best performance you can get out of a computer. In the case of low and medium demand work, the offered performance might be a little over the top, but it gives you a lot of leverage and flexibility to use the computer how you want. If you aren't currently a gamer, but you decide to try it out later on down the road, you don't need to purchase another machine because you already have one that can handle it.
Longevity
Gaming PCs incorporate a lot of the newest hardware and features in their builds. Couple this with the added performance, and you have a PC that should last you quite awhile. Regular laptops can struggle with becoming obsolete relatively quickly due to the lower quality hardware and minimal performance they offer. When you purchase a gaming PC it can be a great investment for the future because they can often last for several years and can keep up with most of the system requirements of new programs.
Dedicated graphics card
One of the biggest hardware differences between a regular and gaming PC is the addition of a graphics card. Regular PCs generally utilize an integrated graphics processor that is built directly into the CPU. While this can work just for normal day-to-day tasks, an integrated graphics processor provides considerably less performance than a dedicated one.
Almost any gaming PC you see on the market will have a dedicated graphics card inside of it. A graphics card is an integral piece of any gaming build because it's so heavily relied on. A key part of almost any video game is going to be its graphics and processing graphics is a heavily demanding task. But graphics processing isn't just for video games either, the graphics card is also utilized when using a graphics design program, rendering and editing video footage, and a load of other tasks.
These graphic intensive tasks put a lot of demand on the graphics processor and the performance it provides. That's why it's extremely important to have a dedicated graphics card, so that your PC is never bottlenecked by slow graphics processing.
Disadvantages
Cost and budgets
It's no secret that a gaming PC will cost you more money upfront than a regular PC. However, the additional money is buying you more performance, a computer that will last much longer and retain its usefulness over the years, and much fewer limitations on what programs you can and can't use.
A regular computer might last you for a couple years before beginning to run into performance issues, but if you only need to use it minimally then it might be the choice for you. A gaming PC will provide hardware that will last much longer and keep up with the increasing performance demands of new software and programs.
Can a gaming desktop be used for work?
Yes, a gaming PC can absolutely be used for work as long as it meets the minimal requirements that were brought up in the resource demand section. An entry level gaming PC should have no problem handling the requirements of a low or medium demand job. It should have ample resources to fulfill any needs you would have, while also providing you decent performance in most games as long as you don't want to play them at maximum settings.
Things can get a little trickier when talking about the high demand jobs though. The programs and tasks in the high demand group are directly tied to the performance of your machine. Many of the tasks you need to perform are large processes that utilize a large amount of computational resources. This means that the more resources you have available, the faster the process can go.
So yes, gaming PCs are an excellent option when looking for a machine that can provide you with excellent performance and can handle resource intensive tasks and programs.
A Step By Step Guide on How to Build a Gaming Desktop Computer
Building your own custom gaming PC can be a complex but rewarding process. It's also a great way to learn more about computers and how they are put together. This can come in handy later down the road when your machine needs upgrades or replacement parts, and you can simply swap out your hardware instead of purchasing a new rig.
The most important part in putting together your custom gaming PC is understanding the parts and pieces that go into your build. In this guide you will learn what kind of hardware you will need, how to plan your build, and tips on assembling your gaming PC.
Typical Hardware in a Gaming PC
The hardware required to run a gaming PC is all pretty similar, there are some small variations and different types of equipment, but this guide will focus on the general core pieces that will get your build up and running with no issues.
Computer Case
A computer build requires a case to house all of your other hardware within it. While there aren't any strict requirements on computer cases, it's best to stick with an ATX case for your build as there can be some size issues if you go smaller. The ATX is the standard size for most computer builds, and provides some of the best flexibility when it comes to hardware choices.
Power Supply
The power supply is exactly what it sounds like, it supplies power to your entire gaming PC. The required wattage of your power supply will be highly dependent on your other hardware choices, the biggest influencers being your motherboard/CPU combination and your graphics card. Before purchasing a power supply check the technical specs of those parts to make sure your power supply meets the minimum watt requirements.
Power supplies come in three different variations, modular, semi-modular, and normal. A modular power supply allows you to pick and choose which cables you want to connect within your computer case, this can be a great way to ensure your computer build is clean and free of excess cables.
A semi-modular power supply has only the core required cables permanently attached to it, and gives you the option to add additional cables similar to the modular power supply. Finally, the normal power supply has all cables permanently attached to the casing so you can pick and choose what cables you want in your build. This can add some clutter to your build, but if you aren't too worried about excess cables then you can save some money with this option.
Motherboard/CPU
The motherboard and CPU are technically two separate components, however they are tied together by socket type requirements. CPUs are designed to fit certain socket types, whether you choose an AMD or an Intel CPU, each CPU will only fit a single socket. It can be a good idea to choose which CPU you want to use in your build before picking out a motherboard. Once you have a CPU in mind, take note of the socket type listed and then search for a compatible motherboard with the features you want.
RAM (Random Access Memory)
Your RAM choices will be pretty dependent on the motherboard you choose. Every motherboard is compatible with a certain range of RAM speeds as well as having a limit on how much RAM it can house. Check to see what RAM speed your motherboard is compatible with and then see how many dedicated RAM slots it has available. Motherboards will generally have 2-4 slots available for RAM, and you don't have to use them all. In fact, most gaming rigs can get away with 8-12GB of RAM without having any issues.
Graphics Card
While some CPUs come with an integrated graphics processing unit (GPU) and can work without a graphics card, almost all gaming PCs will have a dedicated graphics card. Integrated graphics can't get anywhere close to the performance a standalone GPU offers. Since a gaming PC is generally built to provide excellent performance and handle resource intensive tasks, an integrated GPU just doesn't fit well into a build.
The GPU market is dominated by two companies, NVIDIA and AMD. These companies both offer excellent performance and quality when it comes to hardware, however NVIDIA is more well known for providing premium features such as Ray Tracing. Don't sleep on AMD though either, Radeon GPUs can provide similar performance and quality with a smaller price tag.
Hard Drives
The final piece of hardware you will need to complete your computer build is a place to install your operating system and store all of your files. Hard drives come in two different types, Solid State Drives (SSD) and Hard Disk Drives (HDD). HDDs are the older and slower of the two, but they supply a higher amount of storage room for less. SSDs are a newer type of hard drive that is similar to the SD cards you would use in a digital camera or your smartphone. These hard drives are incredibly fast and allow your system to boot up within seconds.
It's highly recommended to incorporate a smaller SSD at minimum for your gaming PC. This will allow you to install your OS and some main programs on the SSD, and then you can utilize a cheaper HDD to store the rest of your files, documents, and programs.
SSDs have come down in price considerably, so you might be able to find a 1TB or higher at a reasonable price and then you can simply enjoy having a single hard drive with amazing performance.
Product Selection and Planning
Now that you have a basic grasp of all the hardware it takes to run a gaming PC, it's time to plan your build and select the products you want to incorporate into your custom gaming PC.
Before getting into the parts selection, consider what you will want to use the PC for. The most obvious answer is "gaming", but are there other uses you may want to utilize it for as well? It has become extremely popular to stream and record yourself while gaming, and if that is something you will want to do then you should consider that while selecting parts.
Some games can be pretty resource demanding, and if you plan on streaming then it will become that much more resources intensive. It's important to consider this while picking out the parts that will provide you with your performance. No one wants to have a brand new computer that suddenly can't keep up with everything demanded of it.
1.
CPU Selection
Start out by choosing which CPU you want to incorporate into your build. There are two companies that provide desktop CPUs, Intel and AMD. You can get excellent performance out of either brand, but Intel is the more established company that is seen as a 'premium' option. AMD has garnered a reputation of being more affordable, but that doesn't mean they offer any less performance. In fact if you take a look at many of the CPU benchmarks you will notice that most of AMDs CPUs are on par with Intel.
Once you choose which brand you will want to go with, you should do some research and check benchmarks like this to compare your different options. Once you find a CPU that matches your criteria and price point, check the socket type and use that for the next step.
2.
Motherboard Selection
When shopping for a motherboard you should first use the socket type of your CPU to filter your selection and then begin looking at the other features they offer. Features to keep in mind while choosing your laptop include:
● RAM slots - Usually come in variations of 2 or 4.
● Input selections - Do you need specific connections for your peripherals such as an optical audio output or USB 3.0?
● PCI slots and variations - You will need a PCI slot for your graphics card for sure, and if you choose to add additional equipment they may also require a PCI or PCI express slot as well.
● SATA and eSATA - How many hard drives will you be using? Will you be incorporating an eSATA SSD?
These are some of the things you should keep in mind while browsing motherboards. You shouldn't worry too much about monitor connections as your graphics card will be providing those.
3.
Graphics Card Selection
There is a pretty wide variety of graphics cards to choose from and you shouldn't have to worry about having many limitations. The only things that might limit your selection is the size and power requirements of the card itself. The size will be limited to the space in your computer case, but if you went with a normal ATX or larger case then you shouldn't have any issues.
The power requirements will change how big of a power supply you will need to have, which is why selecting your graphics cards is one of the first things on the list. Several websites offer benchmarks and comparisons between graphics cards, so using a list like this can help you find the right card for you.
Keep in mind that you will not want to go cheap on your graphics card if you are going to use your custom gaming PC to stream or record while playing video games. Rendering and encoding your video is pretty demanding on your graphics card, so you will need a card that offers high performance.
4.
Hard Drive and RAM Selection
Hard drives choices are pretty much entirely up to what you want and can afford. SSDs are an excellent option when it comes to offering high performance and a small form factor, but if you are really into storing media and videos then you may want to consider a high capacity HDD as a storage option.
RAM options will be dependent on your motherboard's speed compatibility and the amount of RAM slots it has available. The amount of available RAM is more important than the speed of the RAM you are using. In other words, you will get a lot more performance out of 16GB at 2666MHz, then if you had 8GB at 3600MHz. With this is mind you should see the speed as more of a compatibility requirement rather than a performance indicator.
5.
Power Supply Selection
The final selection on this list is the power supply. It's located at the bottom of this list because the size of the power supply is entirely dependent on the other hardware you choose. Before choosing a power supply check the power requirements on your motherboard and CPU, as well as your graphics card. These will be the two biggest factors in your power supply choice.
The power supply types discussed earlier will not affect the performance of your gaming PC, and are rather just for ease of use and aesthetic purposes. So don't worry if you can't find a good choice in modular or semi-modular power supplies, go with the one that fits your budget and power requirements and your build will be just fine.
Putting it All Together
Assembling your gaming PC is the final step in building your custom rig. Because a lot of parts and hardware require certain setups, it's difficult to provide direction on how to put it all together, but here are some tips to help you assemble your own gaming PC.
● Watch a youtube video - Watching a video on how to assemble your PC can give you a good idea on how things are done and where things should go.
● Use anti-static mats - One of the big risks while building your PC is damaging one of your components with stray static electricity. Before handling any of your components make sure to ground yourself and get rid of any static you might be conducting.
● Do not touch the CPU pins - The CPU pins can be found on the underside of the CPU or in the socket on the motherboard. Avoid touching these at all costs because a bent pin can be very problematic and is very hard to fix.
Overclocking
You might have heard the term overclocking being thrown around by your friends or online guildies, and while this guide won't go in-depth into it, just know that it's a way to boost the performance of your hardware by increasing the settings beyond the factory standards. Overclocking is more of an expert level task and requires knowledge of some of the "under the hood" settings within a computer's Bios settings.
Increasing the performance of your custom gaming PC through overclocking will increase the energy consumption as well as the heat generated. So aftermarket cooling is generally required to counteract the increase in temperature. Overclocking will also void most warranties on the hardware, so do it at your own risk.
Wrapping Up
If you're feeling a little overwhelmed after going through this article, don't fret. Building a PC isn't for everyone, it can be time consuming, complicated and risky. But there are still excellent alternatives to building your own custom gaming PC. Techfast offers an excellent selection of high end pre-built gaming PCs that can provide you the same performance as you'd get from building your own.
The best part about using TechFast is that you still get a variety of customization options so you aren't just limited to a single PC design. You will save time and eliminate the risk while still having access to a great variety of options and even a one year warranty on all PC systems.