Products By Category
AMD Systems
Intel Systems
Best Gaming PC
Best Cheap Pre-Built Gaming PC
Best Cheap Gaming Desktop
Best Gaming PC Under $1000
High End Gaming PC
Best Cheap Gaming Desktop
NO ONE DOES IT BETTER!

Fan Zhang - Google Review
"I was impressed with the build quality...I would definitely recommend TechFast to my friends and anyone needing a new computer."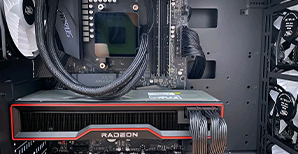 David Tran - Google Review
"The benchmarks for my build are beyond expectations and I'm glad I went with this machine...Overall I'm super happy with what I've got here and would gladly recommend."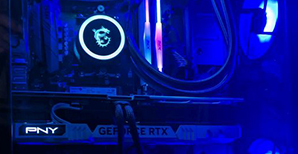 Trevor Clavell - Google Review
"Great product, I was serching for months for a PC come across Techfast...very happy so far"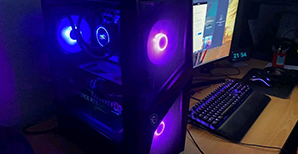 What Is The Best Gaming Desktop?
In our experience, the answer to "What is the best gaming desktop?" is: whatever gives you the maximum frames per second, per dollar. That is to say, whatever your budget, you want to maximise the number of frames per second your system puts out, for every dollar you spend. Of course this isn't the only measurement of value, but it's a pretty good place to start.
For gaming, you'll want to make sure your graphics card has the grunt to hit your desired frame rate and resolution, and pair well with your processor. AMD Ryzen-based systems fare well with dual channel RAM at higher speeds, while Intel systems also benefit from at least 2 x 8GB modules (16GB) of RAM. If processing power is what you need, be sure to select the best processor and as much memory as your budget allows.
We have gaming PCs to suit any budget, with a huge range of systems both under and over $1000 that will get you into your favourite games and applications, for less. Look for the big names and brands including AMD Ryzen 5000 and 7000 series and 12th and 13th generation Intel Core processors, plus AMD Radeon RX and NVIDIA GeForce RTX series graphics cards. We partner with all the major brands including MSI, Gigabyte, Asus, Galax, Allied and more, to bring you the best performance for any budget.
How To Build A Cheap Gaming Desktop?
Our cheap gaming desktops feature processors from AMD and Intel, with AMD Radeon and NVIDIA GeForce graphics. The performance gap has closed so much between AMD and Intel processors that today, it could almost be down to what is at the lowest price, or even personal preference, as to which processor is best – either way, you're not going to lose much in performance or value. And while NVIDIA GeForce graphics cards still have the most market share, AMD Radeon graphics cards offer serious bang for buck in 1080P, 1440P and even 4K gaming.
When choosing your best cheap gaming desktop, look for the AMD Ryzen 3 or Ryzen 5 series or Intel i3 or i5 series CPUs, NVIDIA GeForce RTX graphics cards, or AMD Radeon RX graphics cards, which, according to availability, range from RX 580 for entry-level gaming through to GeForce RTX 4000 and AMD Radeon 7000 series GPUs.
Select your motherboard: our base AMD A320 and Intel H610 motherboards provide excellent performance, value and reliability for entry-level and middle-tier graphics card pairing, while higher chipsets like B550, and B660 introduce more features such as improved processor thermal management, supporting faster RAM speeds and supporting M.2 NVMe drives. Top-tier X670 (AMD) and Z690/Z790 (Intel) motherboards further enhance functionality, with additional BIOS features, superior chipset cooling and VRMs, more DIMMs (RAM slots) and support for multiple M.2 NVMe drives. We also offer many variants that feature on-board Wi-Fi - check the component's description on the product page for further details.
Deck it out with your choice of memory – our systems start with 16GB of DDR4 RAM, while 32GB is becoming increasingly common for gaming PC builds for most modern games and will help future proof your system.
Finish off with your choice of storage (we recommend M.2 NVMe drives for lightning quick load times), power supply (higher ratings = higher efficiency, saving you money in the long run), and add any gaming peripherals like monitor, mouse, keyboard and headset, and your cheap gaming desktop will be complete!
Where To Buy The Best Value Gaming Desktop
The only place to buy the best value gaming desktop is TechFast.com.au! We use the latest and greatest gaming PC components from the industry's biggest names, our products are backed by a local support team and Australia-wide return-to-base warranty, and our prices are the lowest anywhere around.
We are committed to lowering the cost of PC gaming for everyone. Whether you're spending big on a high-spec Gaming PC capable of crunching today's latest PC games, seeking an entry-level gaming PC that won't break the bank, or simply searching for the greatest "bang-for-buck" gaming PC in Australia, we've got you covered.
Getting into PC gaming shouldn't cost you 6 weeks' rent. Our online business model and local assembly and support services mean our overheads are the lowest they can be. We've established a reputation in the Australian PC gaming community for delivering outstanding quality at the lowest prices, so we don't have huge marketing budgets to pay for. And we work harder than anyone else to get the best deals for quality PC gaming components, so when we buy in bulk, it means you save!
So go ahead – do your research at your local computer store, major retail chains and other online system builders. Then compare them against us, and you'll find we can't be beaten on service, performance and value for money.